GIGS
Monday 30th April 2012
The Jolly Anglers, Reading, RG1 3EA
open-mic hosted by Tony Brown
"Dead"
I know it's going to come back and bite me at some point but I've just played Can't Let Go on three consecutive nights without a hitch. Surely that bete noire is dead?
It wasn't as busy at The Jolly Anglers as previous nights (perhaps because of the Manchester derby football match) but it was enjoyable nevertheless, although admittedly, it was a little disconcerting for people to be begging me NOT to play American Pie. (:-)
Anyway, I've got to say that it was notable when I realised that for most of the six songs that I'd written or co-written, people were dancing. That felt pretty cool. I've said it before and I'll say it again, I much appreciate the warmth that The Jolly Anglers shows me, and indeed coincedently that sentiment is akin to that of the song Crackerjack.
Finally, I just want to mention Tim Evans, who took a song or two to get his "eye in" but once he was there, he was really great.
My Set 1:
My Set 2:
Last Night I Saw You Standing There
Rhu Bar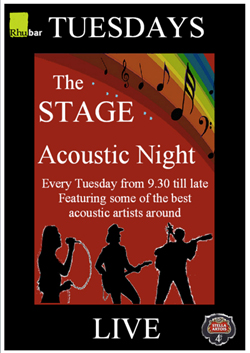 I'm very flattered to be asked to support Aquillo and 12 Truths at their gig at The Rhu Bar next Tuesday 1st May. I will be opening the evening up at 10:00pm.
(Rhu Bar, 21 London Street, Basingstoke, RG21 7NT)
Finding Joe
Don't forget the screening of the film about the work of Joseph Campbell, Finding Joe, hosted by Stand-Up Cinema at Reading's The Rising Sun Arts Centre on May 18th at 6:30pm. The start time is early so that the film will end by 8:00pm and not conflict with Bohemian Night Showcase.
Campbell said the following in the last lecture he ever gave:
"In my writing and my thinking and my work I've thought of myself as addressing artists and poets and writers. The rest of the world can take it or leave it as far as I'm concerned."
So if you're an artist, writer, musician , or just someone wanting to break out and go their own way, or even actually dare I say, a Star Wars fan (George Lucas based his original films' stories on Campbell's work), then I think you might find the film interesting and indeed I hope encouraging. Next week I hope to pull together all of this site's reference's to the film and explain why I found it meaningful. I don't expect it to be everybody's cup of tea but if it helps encourage one person along the way to achieving what they want to in their life I think my job will have at least been partly accomplished.